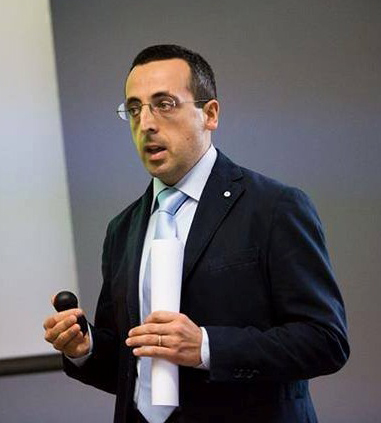 Michele Della Ventura

Michele Della Ventura, professor of Music Technology, is a learning expert, researcher and instructional designer. His research interests include correlation between music and mathematics with a particular emphasis on artificial intelligence research in the field of computer-aided analysis of tonal music; intelligent systems; enhancing teaching and learning with technology; assessment for learning and strategies and models for the effective integration of technology into the curriculum at all academic levels.
He is the author of several articles presented at many conferences and published in international science magazines and high school textbooks (also featured at the International Book Salon of Turin in 2012 and 2018).
He proofreads articles and is a member of scientific committees in International Conferences. He was invited as keynote speaker to International Conferences in Italy, Austria, Canada, China, Czech Republic, France, Germany, Hong Kong, Hungary, Ireland, Japan, Poland, Portugal, Romania, Singapore, Spain, UK, US (Baltimora, Boston, Las Vegas, New York, Washington).
Michele Della Ventura has also consulted on Big Data and Semantic Technology projects in Italy. Some of the projects include indexation of the symbolic level of musical text.
He is currently involved in several researches related to technology supported learning for dyslexic students, learning through the use of social media and handheld technologies in a CLIL classroom and technology supported student's music analysis and composition.
He teaches Music Informatics in University courses at Music Academies and Conservatories and Musical Technologies in Music High Schools.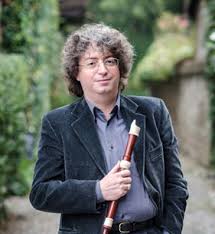 Simone Erre

Simone Erre is a recorder teacher both at the Academy of Music "A. Steffani" in Castelfranco Veneto and at officially recognized School of Music "F. Vittadini"at Pavia.
He got a diploma in recorder at the Academy of Music "A. Pedrollo" at Vicenza, under the teacher Livia Caffagni's guidance, with full marks. He studied recorder at the Municipal Music School in Milan with M. Recondo e P. Memelsdorf. He specialized with C. Krueger, D. Hammer, R. Escalas and D. Brüggen.
He got also a diploma in baroque flute at the Civica Scuola di Musica in Milan because he has always been interested in Early Music.
His repertoire ranges over widely, from the Middle Ages to XX century.
He got a diploma in flute at the Academy of Music in Piacenza.
He is director and founder of the Ensemble Il Giardino delle Muse. They perform in many concerts and important Early Music festivals.
He was director of the Ensemble Il Biancofiore, specialized in European Renaissance repertoire. They recorded a CD Contraponto bestiale a la mente broadcast live on Radio Rai 3 in 2009.
He has founded and is the director of the ensemble I Tesori di Orfeo. They recorded a CD entirely dedicated to French Baroque of XVII century "Air sur les Folies d'Espagne" which received a very good review on the magazine Amadeus in February 2014. This CD was broadcast live on Radio Rai 3 in 2013 and on Radio Rai 3 as a new release.
Beside the teaching and concert activities he is also the artistic director of the Early music festival I Tesori di Orfeo which takes place in Pavia, now at its ninth edition.
The teaching activity is supplemented by summer courses at Accademia degli Imperfetti at Pescara, at Early Music festival at Parma, Piceno Classica at San Benedetto del Tronto, Levico Terme at Trento and he holds a seminar at the Academy of Music at Trento with the title "La musica per danza nel Rinascimento e nel Barocco".
As musicologist he wrote an article entitled "Tra pratica e teoria: da quali taglie è costituito un consort di traverse?" published by la Revista Catalana de Musicologia in 2004.
He has on his credit more than 500 concerts and has recorded 9 CDs, some of them containing pieces recorded for the first time in the world.
The ensemble he founded and directed have performed in important festivals such as MITO (Milan), Early Music Festival in Parma, FIMU in France, I Tesori di Orfeo in Pavia, Antiqua in Milan, Cusiano festival, The Concerts of palazzo Mezzabarba in Pavia, Festival dei Saperi. During the Early Music Festival in Parma he collaborated with Rolf Lislevand and Marco Beasley.
He has also collaboratd with theEnsemble Magnificat (J. S. Bach, Actus Tragicus, M.-A.
Charpentier, Te Deum), Accademia Strumentale "F. A. Vallotti" (J. S. Bach, Oratorio di Pasqua, G. F. Handel, La Ressurezzione), Ensemble Il Continuo (Seicento italiano), Silentaia Lunae (Rinascimento italiano), The Bach Ensemble diretto da J. Rifkin (Cantate di J. S. Bach).
He obtained the post diploma degree to teach music at the Paleography and Musicology school at Cremona.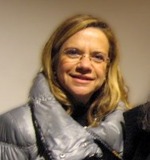 Isabella Lo Porto

She studied in the Conservatory "FE Dall'Abaco" in Verona, where she graduated brilliantly with Laura Palmieri. In 1985 she received the diploma of Music Operator from the Music School of Fiesole. She improved in the soloist repertoire under the lead of important concert artists such as Piero Guarino, Bruno Mezzena in Italy and, with Fausto Zadra at the "Ecole Internationale de Musique de Lausanne". She is also particularly interested in the piano in the chamber music and in the piano duet for whom she attended courses of Borciani Paolo and Dario De Rosa, with gratifying success. she won many national and international competitions both as a soloist and in chamber ensembles, and she carries out an intense concert activity in Italy and abroad. A tournèe in Poland led her to perform at the Piano Festival Chopin of Slupsk and at the Academy of Koszalin, where her performances have been recorded for radio and television in Poland. She has also recorded for the Soviet and Slovenia state television. Isabella Lo Porto began the teaching activity very young. In fact, at the age of 17 she was a teacher and later director of the preparatory courses Yamaha in Verona. Since 1984 she has been teaching piano in the main State Conservatories of Music, she currently teaches at the Conservatory "F.A. Bonporti" of Trento, detached section of Riva del Garda. She also taught in piano master classes in Conegliano, Udine, Trieste, Nervi (Ge), and she was teacher at the Ecole Normale de Musique "Alfred Cortot" in Paris. She is frequently asked to be part of juries in National and International piano competitions. In the teaching activity she has been rewarded many times as a teacher with the most number of students first classified. The awards achieved are more than 600. She is also takes care to the organization of cultural activities to promote young artists. Indeed, she was in the directorate of the GMI section (Musical youth of Italy) in Verona for more than 10 years.She collaborated with the Como Autumn Music in 1985.She was Artistic Director of the Academy Music of Castiglione delle Stiviere (MN), of the Musical Association "W.A.Mozart" Valeggio sul Mincio (Vr) and of the "Academy Universe Art" of Verona. She was Editorial and Artistic director of the Project "Antologia Sonora", an initiative to promote young talent through the creation and distribution of a CD-Rom published by Piana Editor Graphic Arts. She is artistic manager for Italy and Intenational ufficial member of the "Gina Bachauer International Piano Foundation" of Salt Lake City - Utah (USA). Since 2000 she is Artistic Director of the Cultural Association "Project Mikrokosmos" of Verona and since 2011 she is authorizated teacher at the ABRSM (Royal Academy of London).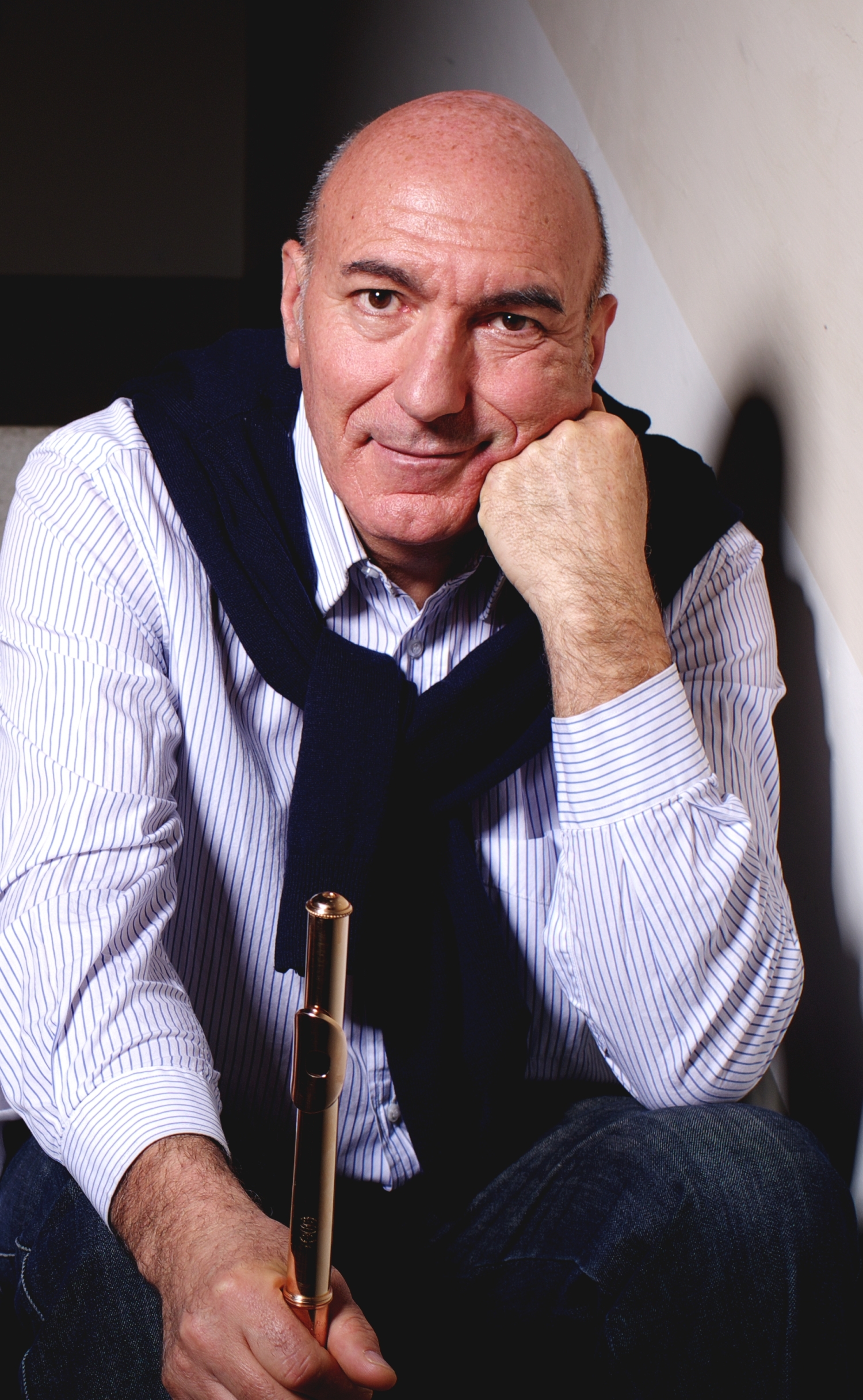 Giovanni Mugnuolo

The musical career of Giovanni Mugnuolo stared from a very young age. He was originally taught by his father. From there, his talent was developed to enable him to study at the Academy of Music, Matera, under the tuition of Mario Giannotti. In a quest to perfect his musical talent, he studied under Jean-Claude MASI, Naples and also with the famous flautist Peter-Lukas GRAF at the International Academy of Music in Sion and in Basel (Switzerland). He has also studied chamber music with Bruno Canino at the Academia Chigiana, Siena (Italy).
In 1976 he won an eminent competition at the la "Fenice Theatre" Venice in which he played first flute. He has also played first flute in the Bari Symphony Orchestra, in the regional Lucana Orchestra and in Chamber Orchestra of Frankfurt.
He has a wide repertoire, and plays from Baroque to modern music. He is able to exhibit as a soloist or as part of an orchestra.
He has played in orchestras like " Antica e Nuova Musica", " I Solisti Dauni", " Fiati di Parma" and Diapason Ensemble.
He has taken part in international festivals for "Tibor Varga"in Sion (Switzerland) and the Festival Pontino and International Festival of Matera. He has secured recording sessions with RAI, Radio Vaticana and DDR. He has also performed in Europe, USA and Russia where he gained praise from both music critics and member of the public. He was delighted to receive honorary membership of the Museum Skryabin of Moscow. In 1981 he gained the certificate of Academic in the Royal Academy Philharmonic of Bologna (Italy). He currently teaches flute courses in Ravello, Ischia, Paestum and the Academy of Music in Lausanne (Switzerland).
Most recently, he is holder of the flute at the Academy of Music in Castelfranco Veneto – Venice (Italy).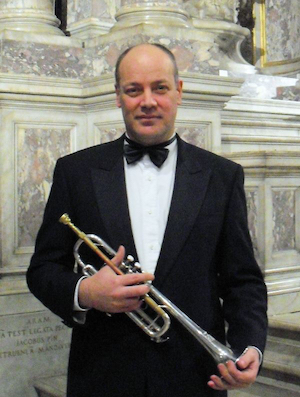 Fabrizio Nasetti

Trumpet player, been born in Rome, he enters to the conservatory "A. Casella" of L' Aquila, where, under teacher Sandro Verzari's guide, he graduates. During the period of study did numerous concerts with orchestra of the conservatory and as soloist. After the diploma, he realizes concerts (around 700) in different chamber's formations as duo with organ, recital with Piano, Brass Quintet, with strings orchestra and chamber's orchestra. The concerts have been realized in the different italian cities: Rome, Viterbo, L'Aquila, Florence, Venice, Udine, Gorizia; in the city of Portugal: Lisboa, Coimbra, Porto, Faro, Beja, ecc. He has also realized concerts in Spain (Pamplona, Madrid, Badajoz,Oviedo) and in Germany (Goslar, Hanôver). He has made part in 1994 as soloist, of the International Festival of the Estoril Coast and the Festival Lusoiberico "7 Sois, 7 Luas", made in Pontedera (Florence). He has performed, always as soloist, various concerts with Classical Orchestra of Évora, Chamber Orchestra dell´Estoril, Orchestrates of the Low Alentejo (Lisbon) of which has been first soloist trumpet for 11 years, Orchestra "Nova Amadeus" of Rome, Orchestra Camerata of Manchester (UK) and Orchestra "Venetian Symphony" of Venice with whose is exhibited on the theater "La Fenice" and now is principal trumpet on "Orchestra Offerta Musicale" of Venice. He has formed the "Blue Jazz Quartet", Pop and Jazz Orchestra of the music professional school of Évora and it is founder of the "Venice Brass Quintet". He has recorded various Cd's with the great jazz player Greg Moore. In 2004 has concluded with great result a master for teachers of conservatory, finalizing the disciplines of Technique and Management of the schools, Curricular Development, Instrumental Didactics and Education Psychology. As 1st Trumpet has collaborated with the orchestra of Padua and Veneto, whit Orchestra Symphony of Chioggia and Orchestrates dell "Opera Giocosa" of the Friuli-Venice Giulia, Orchestra "San Marco", Orchestra Internazionale d'Italia. With 30 years of pedagogic experience, besides the numerous Master Class realized in Italy, Spain, Portugal and Germany, has taught in Portugal to the Conservatory of Horta, in the Professional School of music of Évora and in the Conservatory of the Low Alentejo (Lisbon). He has been considered fit in the classifications of the conservatories of Lecce, Vicenza, Trento, Padua and Bari where he has already developed activity of substitute. Currently it is titular teacher of the desk of Trumpet, Natural and Baroque Trumpet, Jazz Trumpet in the conservatory "Benedetto Marcello" of Venice.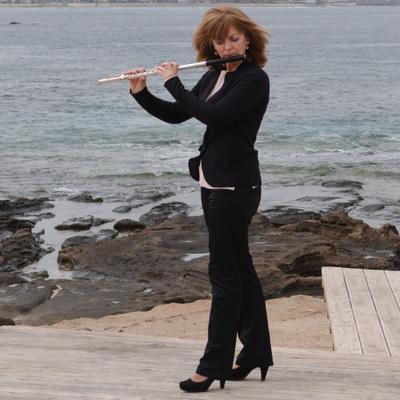 Charina Quintana

Charina Quintana was born in Las Palmas de Gran Canaria. She began her musical studies with Pedro Madina and continued with Pedro de Armas. She recieved a study grant from the Fundación Orquesta Filarmónica de Gran Canaria and she finished her flute studies at the Real Conservatorio Superior de Música de Madrid with Vicente Martínez, with excellent marks. She has also studied with Juana Guillén and after has attended numerous courses at advanced level with Benot Fromager, Salvador Espasa, Jaime Martin , Ricardo Ghiani, Trevor Wye, Will Offerman, ...and has studied in the Music Academy of Stuttgart Pedagogical studys, Verena Maschat, Lucy Mancisidor.
In 1989 she obtained a flute teaching post at the Conservatorio Superior de Música de Las Palmas de Gran Canaria and from 2005 she has been teaching flute at the Conservatorio Superior de Música de Canarias also in the department of flute-pedagogy. In the same year she formed the "Grupo de Cámara Profesores de Gran Canaria" which has been in existance for over 25 years with the oboist and Composer Francisco Crespo.They have performed original repertoire for this instrument and different arrangements for chamber orchestras. In 2003 Duo Flauta y Piano was formed .In June 2013 they recorded a CD with Red Berd Records.
She has played as Principal Flute in the Orquesta Diego Durón and colaborated with the Orquesta Filarmónica de Gran Canaria, Orquesta Sinfónica de Las Palmas and Municipal Band de Las Palmas. She has also played as principal flute with the Orquesta Sinfónica del Atlántico under the Direction of Isabel Costes,and recently colaborated with the Orquesta Filarmónica Giuseppe Verdi, de Salerno (Italy) She has performed in different music festivals such as: "Música Antigua" (Lanzarote), "Clasicos en el Parque" (Almeria), "Gran Canaria Internacional Flute Festival", " Stage Gran Canaria Music Excellence" , "Suoni dal Legno" , Deruta She has given numerous recitals around the Canary Islands, Portugal, Spain, Bulgaria (Burgas, Aheloy , Sozopol) and Italy (Salerno, Città di Marostica, Bellizzi, Forlì, Cesena, Castelfranco Veneto, ...).
She regularly gives masterclasses and workshops of Circular Breathing for the Flute, Seminar Room in the University of studi of Salerno, "Falautcampus" and Masterclass-concert in the Conservatory di Musica "Giusseppe Matrucci" di Salerno, Conservatorio de Música "Bruno Maderna" Cesena , Conservatorio "Agostino Steffani" di Castelfranco, Veneto, etc.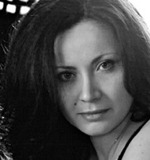 Irene Russo

Praised by the legendary Martha Argerich as "one of the best young musicians I ever heard in my life", Italian pianist Irene Russo (1974) appeared on the big international stages like one of the most interesting talents of her generation.
Pupil of both Franco Scala and the legendary Lazar Berman at the International Piano Academy "Incontri col Maestro", she also studied with Alicia de Larrocha in Barcelona. Next engagements with orchestra will include debut with: Thüringen Philharmonie, Het Noord Nederlands Orkest and Real Orquesta Sinfónica de Sevilla.
Her latest Franz Liszt "Angelus" double CD for Brilliant Classics has been released worldwide on June 1st 2016. Highly praised by both press and public this recording has been recently chosen as best instrumental CD of the month on the prestigious "Gramophone" magazine (sept. 2016). Officially presented on BBC Radio 3 it has been broadcasted on various radio stations like RAI Radio 3, Bayerischer Rundfunk, Radio 4 Holland, Radio Clasica Spain. During season 15/16 Ms. Russo has been also invited to perform in the new ADDA Auditorium in Alicante (Spain), in Groningen (de Oosterpoort) en Den Hague (Festival Classique) in Holland. During season 14/15 she has performed in Spain, Italy, Belgium, Holland, Germany. Her 2014 USA West Coast tour culminated in a very acclaimed recital at the sfSound's Microfestival of Contemporary Piano Music in San Francisco. In the United States she has also performed in Cleveland, Los Angeles, Houston, New York, both as soloist and with orchestra.
She collaborated with renowned conductors such as: John Axelrod, Umberto Benedetti Michelangeli, Susanna Mälkki, David Stern, Fabio Mastrangelo, Alexander Liebreich, Marc Andreae, Misha Damev, Ovidiu Balan and Michel Tilkin. Her recent soloist appearances with orchestra include: concerts with the Netherlands Philharmonic Orchestra, a tour in France with l'Orchestre National of the Pays de la Loire, Düsseldorfer Symphoniker, deFilarmonie van Vlaanderen, Münchener Kammerorchester. She has been also guest soloist with the Kiev National Symphony Orchestra, Orchestra da Camera di Mantova, Klassische Philharmonie, Orchestra Sinfonica del Teatro San Carlo, Houston OrchestraX, Orchestra da Camera della Toscana, Brandenburgisches Staatsorchester Frankfurt, Craiova Symphony Orchestra, Orchestra Sinfonica della Provincia di Bari. Winner of the Clara Schumann International Piano Competition of Düsseldorf 2000, she was also awarded for the best contemporary interpretation at the ARD 2002 International Music Competition in Munich.
Since then she started a fruitful collaboration with the german composer Jörg Widmann, who wrote his acclaimed "Hallstudie" especially for her.
She has toured Europe extensively, performing in the most prestigious venues like: Amsterdam Concertgebouw, Muziekgebouw and Beurs van Berlage, Utrecht Stadsschouwburg, Rotterdam Schouwburg Theater, Brussels Palais-des-Beaux-Arts and Theatre Flagey, Antwerp deSingel and Koningin Elizabethzaal, Bruges Concertgebouw, Ghent Opera and Bijloke, Berlin Konzerthaus and Bechstein International Klavier Series, Hamburg Musikhalle, Bremen dieGlocke, Nürnberg Meistersingerhalle, Düsseldorf Tonhalle, Hannover Theater Am Aegi, Munich deGasteig, Prinzregententheatre and Herkulessaal, Bonn Beethovenhalle and Beethovenhaus, Stuttgart Liederhalle, Karlsruhe Kongresszentrum, Wiesbaden Kurhaus, Bad Neuenahr Kurtheater, Bielefeld Rudolf-Oetker-Halle, Heidelberg Festivalforum Alte PH, Ludwigshafen BASF Gesellschaftshaus, Frankfurt Konzerthalle, Madrid Sala Reina Sofia and Fundación Guerrero, Barcelona Auditorio Marshall, Valencia Palau de la Musica, Alicante MUBAG and ADDA Auditorium, Lisbon Teatro Municipal, Paris Théâtre de Saint-Quentin-en-Yvelines, Marseille Le Silo, Nantes Cité des Congrès, La Roche sur Yon Le Manège, Angers Centre des Congrès, Zürich MKZ, Milan Auditorium Verdi and Auditorium Di Vittorio, Bologna Teatro Comunale, Napoli Teatro San Carlo, Roma Palazzo Barberini, Cesena Teatro Bonci, Fabriano Teatro Comunale, Foggia Teatro Giordano, Torino Palazzo Graneri, Venezia Palazzo Albrizzi.
In 2003 Irene Russo received the Mention of Honour at the Martha Argerich International Piano Competition. She has performed at the Teatro Colon in Buenos Aires, Arthur Rubinstein Society in Tel Aviv, Jack Singer Hall in Calgary, Marconi Hall in Sydney. In the same year she celebrated her 29th birthday with her debut at the prestigious International Piano Festival of La Roque-d'Anthéron, where she performed twice in the same season; she was also the only italian pianist invited. Eversince she has been performing at the major european Festivals.
Eclectic and experimental artist she has collaborated with visual artists, dancers and coreographers such as David Dawson, Royal Ballet of Flanders and Director Kathryn Bennetts, Patricia Neary (Balanchine's etoile). In 2011 she has performed at Flemish Opera House of Antwerp at the presence of Her Majesty Queen Mathilde of Belgium.
Founder and regular performer of the Piano Ensemble, she has recorded the integrale of Simeon Ten Holt Multiple Pianos Work in 2005 for Brilliant Classics. Irene Russo has recorded for the major european radio and television broadcasting channels such as: RAI, SWR, NDR, Alpha TV Germany, Bayerischer Rundfunk, ARD, ZDF, WDR, Radio Vaticana, Radio 4 Holland, Radio Klara Belgium, Classique 3, France Musique, Radio CBC Canada, HUHF Radio USA. Passionate chamber musician, Ms. Russo has collaborated with: Jörg Widmann, Alexander Lonquich, Valerie Guillorit, Gabriele Cassone, Frank Reinecke, David Adorjan, I Solisti del Vento, Alissa Margulis, Carolin Widmann, Genevieve Strosser, Zoltan Kovacs and Nadja Helble among others.
Engaged teacher, she held a professorship at the Royal Music Conservatoire of Antwerp (piano main subject and chamber music) and until 2018 she was a highly sought-after piano teacher at the LUCA School of Music, Campus Lemmens of Leuven, Belgium. She's also on faculty at the Music Conservatoire "Steffani" of Castelfranco Veneto, Italy, where, besides Piano, she teaches Ear Training (for both classical and jazz students) and Improvisation. She's regularly invited to give Masterclasses and Lectures in several Universities and Conservatoria: Helsinki, Geneve, Groningen, Castellon de la Plana, Alicante, Udine. She's member of the jury in several international piano competitions such as: Treviso, Aalst, Antwerp, Utrecht.

www.irenerusso.com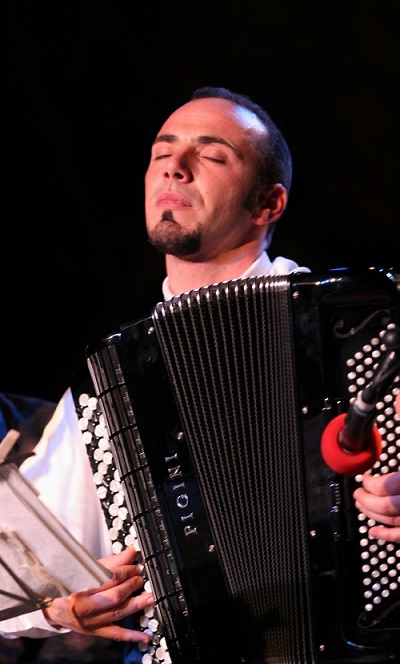 Mirko Satto

As an accordionist, Mirko Satto, studied the accordion at the "A. Steffani" Academy of Music in Castelfranco Veneto (TV) under the tutelage of Professor Ivano Paterno. There he graduated with a first class honours and distinction for which he received two scholarships as the top student at the Academy.
He continued his studies under the guidance of maestros Sergio Scappini, Hugo Noth and Wladimir Zubitsky and took part in numerous seminars held at Talla (in Arezzo) by the renowned accordionist, Salvatore di Gesualdo where he earned the "Professor's Special Award" and a scholarship.
Furthermore, Mirko also graduated with distinction with the oboe under the guidance of Professor Paolo Brunello.
He has won numerous national and international competitions as an accordion player including the following most prestigious awards:
Camalo' (Treviso) where the jury awarded him a special prize for the best performance of a piece of music by an Italian composition; Vercelli; Erbezzo (Verona); Laives (Bolzano) out-and-out first prize winner; Barga (Lucca) where he was the outright first prize winner of 'La Nazione - The Nation" and furthermore, the jury granted him an extra-special award for having performed the best piece of polyphonic music; Verzuolo (Cuneo) outright prize winner of the "S. Seimandi" Memorial Trophy and he also won "The Best New Talent" award organised by the Rotary Club of Cittadella (Padova). In 1999 he was one of three winners in the Soroptimist International "Music Project" Competition, which was held amongst the best newly-qualified accordion players from across Italy.
Mirko has played throughout Europe, Australia, Japan and South America (e.g. "Opera City" Tokyio, "Shymphony Hall" Osaka, "Yokohama Minato Mirai Hall" in Japan, at the Manaus Amazon Theatre in Brazil, the International Summer Music Festival e Moreland Festival in Melbourne, the Organ of Ballarat Festival, the Bendigo Festival, the Beethoven Festiva, the Murray River International Music Festival in Australia, the ACM "Giulio Rospigliosi" (Pistoia), the "Agon and Diapason" in Cremona, the "Dietro le Quinte" in Reggio Emilia, the "Agimus di Firenze" (Florence), the "Asolo Musica" (Treviso), the "Societa' del Quartetto" and the "Amici della Musica" in Vicenza, the "Festival di Benevento", the "Festival di Musica da camera" in Chioggia (Venice), the "Società dei Concerti" in Milan, the "Collegium Musicum" in Latina, the "Amici della Musica" in Messina, the "Ass. Musicale "Il Coretto" in Bari, the "Ass. Musicale Melos" in Ragusa, the "Circolo della Musica" in Bologna and in Ferrara etc.).
Eclectic accordionist, Mirko Satto, easily moves from baroque through to contemporary music, from French variations to the Argentinean tango; he is able to adapt many important musical works so that they are suitable for his instrument.
As well as his intensive schedule as a concert soloist, Mirko has worked on important collaborations with chamber orchestras, always contributing towards programmes which raise the profile of music and of his instrument, the accordion, in all different musical settings. He is currently in a band which follows the work of Astor Piazzolla's Tango and other famous Argentinean composers, playing many various chamber and orchestral arrangements.
Mirko Satto has played with, and continues to collaborate with the "Filarmonia Veneta" Orchestra in Treviso, the "Nuova Banda" in Castelfranco Veneto, the "Malipiero" Orchestra of Asolo (Treviso), the VenetOchestra, the Orchestra of the Oriental Veneto, the Orchestra of the Olympic Theatre in Vicenza and the Orchestra of the Verona Arena.
He is accordion teacher at the "Giorgione" Musical High School in Castelfranco Veneto (Treviso).