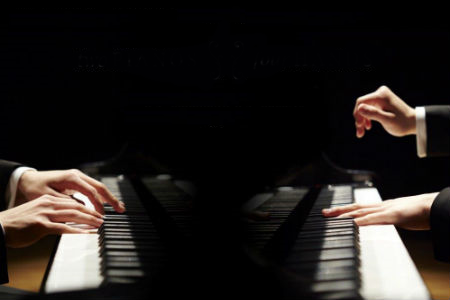 Lessons
At least 2 hours every day for each ensemble.


Final Concert
Date: March 25, 2018
Time: 18:00
Place: Music Academy "Studio Musica"


Enrollment
In order to enroll to the courses send the following:
a) Enrollment form available on our web site: www.studiomusicatreviso.it/Piano_Masterclass/corso_english.php
b) Enrollment payment receipt of:
Two Pianos / Four Hands: € 110,00 each ensemble member
Piano and Orchestra: € 180,00 each partecipant
Listener: € 50,00.

The receipt and the enrollment form must be sent:
· Sending a fax to the number (+39) 0422 346704
· Sending an e-mail to: studio.musica@tin.it

The registration fee is non-refundable unless the courses are cancelled. The fee must be paid by money transfer payable to: Accademia MUSICALE "STUDIO MUSICA"
Address: Via Andrea Gritti, 25 - TREVISO, ITALY
BANCA MONTE dei PASCHI di SIENA, Filiale di Treviso- IV Novembre, bank coordinates:
BIC/SWIFT CODE: PASCITM1TRV
IBAN CODE: IT 11 T 01030 12081 000000848909
DESCRIPTION: Piano Masterclass - SURNAME and NAME

Bank fees are in charge of the attendant.

All participants must pay the attendance fee, before the start of the courses.
The number of participants will be limited.
No refund in case of non attendance on behalf of the participant.

Artistic Director
Michele Della Ventura


Accademia Musicale "Studio Musica"
Via Andrea Gritti, 25 - 31100 Treviso (Italy)
Tel. (+39) 0422.346704 - (+39) 338.2207558
Fax (+39) 0422.346704
E-mail: studio.musica@tin.it
Web site: www.studiomusicatreviso.it